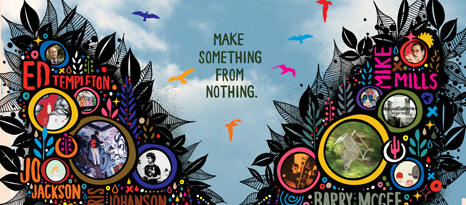 A wonderful film about the discovery of things. Working, and making without the constraints of the establishment - a new cultural movement began. We see the results of this movement everywhere we look as artists are designers, designers are artists, and geeks and nerds collaborate to tell stories in new collaborative ways. This is the story of a hands on movement that saw no boundaries and made work of all kinds that have influenced a generation. The film is currently showing at ICA London in August.
The ARTISTS:
Aaron Rose is an artist, writer and independent curator currently living in Los Angeles.
Barry McGee has become one of the leading artistic figures in California youth subculture.
Chris Johanson has exhibited his works internationally and received the 2002 SECA Award, given by the San Francisco Museum of Modern Art.
Ed Templeton is currently one of the principles behind ANP Quarterly, a large format art & culture magazine.
Geoff McFetridge is a Los Angeles based artist and filmmaker.
Harmony Korine has exhibited his works in exhibitions in New York and Los Angeles.
Jo Jackson has exhibited her work widely throughout the western United States and recently completed solo exhibitions in Los Angeles and Switzerland.
Margaret Kilgallen's art was influenced by both American and non-Western folk traditions. She passed away tragically in 2001.
Mike Mills is a graphic designer, art director, filmmaker, and curator currently living in Los Angeles.
The FILM
from press about the film :
Beautiful Losers celebrates the spirit behind one of the most influential cultural movements of a generation. In the early 1990's a loose-knit group of likeminded outsiders found common ground at a little NYC storefront gallery. Rooted in the DIY (do-it-yourself) subcultures of skateboarding, surf, punk, hip hop & graffiti, they made art that reflected the lifestyles they led. Developing their craft with almost no influence from the "establishment" art world, this group, and the subcultures they sprang from, have now become a movement that has been transforming pop culture. Starring a selection of artists who are considered leaders within this culture, Beautiful Losers focuses on the telling of personal stories...speaking to themes of what happens when the outside becomes "in" as it explores the creative ethos connecting these artists and today's youth.
film site : www.beautifullosers.com
influences :
Etsy
MAKE magazine