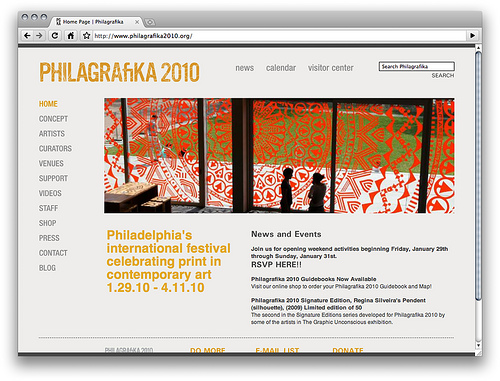 Have you heard about Philagrafika 2010: Philadelphia's international festival celebrating print in contemporary art. 1.29.10 - 4.11.10 ? Now you have. Don't miss the shows planned and unplanned that will be happening around this inaugural event.
Philagrafika 2010 is the first presentation of what will become a recurring event in Philadelphia, celebrating the role of print in contemporary artistic practice.
from the website : Involving more than 300 artists at more than 80 venues throughout the city, Philagrafika 2010 will be one of the largest art events in the United States and the world's most important print-related exposition. Prominent museums and cultural institutions across Philadelphia are participating in Philagrafika 2010, offering regional, national and international audiences the opportunity to see contemporary art that references printmaking in dynamic, unexpected ways and to experience the rich cultural life of the city in the process. The Philagrafika 2010 festival is the result of more than five years of planning by a group of enthusiastic and committed individuals who have mobilized the entire community around a common interest. The Artistic Director and the members of the curatorial team traveled extensively across the country and across continents, visiting studios, print shops, biennials and other art events in search of artists to include. And the administrative staff of Philagrafika, the Artistic Director and the curatorial team have worked closely with local institutions in planning and implementing a wide range of exhibitions, public programs and events, resulting in a citywide collective effort, which appropriately reflects the collaborative nature of printmaking itself.