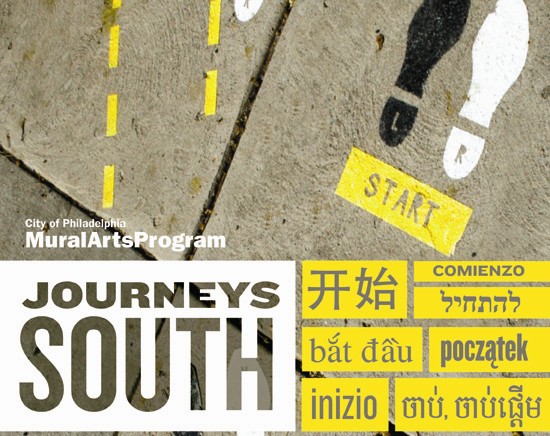 Journeys South works as a visual archeology, excavating the public and private layers that define the evolving immigrant histories of South Philadelphia.
Through multi-disciplinary art presented in a public setting. Journeys South takes the mission of the Mural Arts Program "off the wall" to bring the community-driven philosophies of mural-making to non-mural public art.
Journeys South is a project comprised of four teams of artists. Artists Michelle Angela Ortiz and Tony Rocco focused in creating artworks in the 9th Street Market. Their project entitled Journeys South: Different Paths, One Market will transform awnings from a practical workplace shelter into an outdoor gallery of Market memories.
Journeys South: http://muralarts.org/journeyssouth
FREE walking tours of Journeys South will depart each Saturday from Pronto, 920 South 9th Street (at Montrose Street) at 10:00 am beginning Saturday, April 30 through Saturday, June 11.
Our neighbor Michelle Angela Ortiz worked on this part of the project:
Street Market Awnings: "Different Paths, One Market" – Awnings that shelter eight curbside vendor stalls lining the Italian Market on S. 9th Street between Christian Street and Washington Avenue are transformed into an outdoor gallery of Market memories. Accompanying video interviews with Market vendors, workers, store owners, and residents will be on view Saturdays from 9:00 am – 4:00 pm at Pronto, 920 S. 9th Street (between Montrose & Hall Streets). Michelle Angela Ortiz, painter and printmaker; Tony Rocco, documentary photographer
View Journeys South: Different Paths, One Market in a larger map
ABOUT THE ARTISTS
Michelle Angela Ortiz
http://www.michelleangela.com
Tony Rocco
http://tonyroccophoto.com/