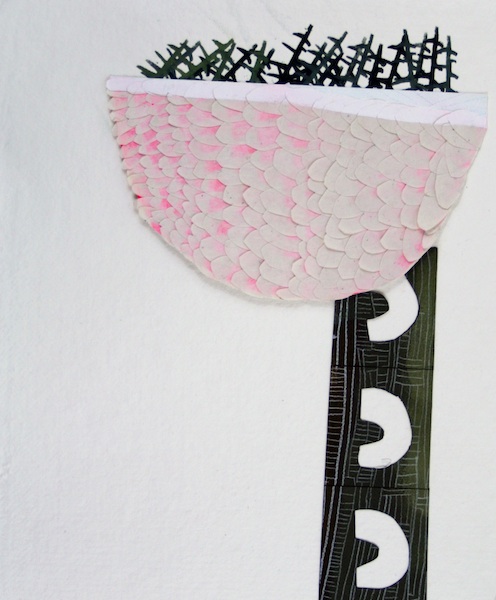 We liked her paintings when L G Tripp showed them last year. In this works on paper show Catherine O'Connell has only a few small and intriguing works. Go and see them.
image: Catherine O'Connell | What Alice Wanted | Cut rice paper, acrylic & colored pencil on rag paper | 12.5″ x 15″ | 2012
WORKS ON PAPER
March 2 – 31, 2012
Artist Reception, Saturday, March 3, 5 – 7 p.m.
First Friday, March 2, 6 – 8:30 pm
Hours
Tuesday, by appointment
Wednesday, 12:00–5:00
Thursday – Saturday, 11:00 – 6:00
Artist's Statement
A few blocks from my home, an empty space has captured my attention. A current patch of weeds and worn open space exists where two row homes once stood. I walk by; often taking pictures and wondering what happened. The coinciding absence and presence both charm & seduce. I imagine what could be created within this gap; ideas that are both naïve and practical. I begin to think like an inventive child, about activities which encompass play, escape and simplicity: rolling down grassy hills; building forts; digging through dress-up boxes; acting nostalgic, messy and unencumbered. These distant memories are then coupled with those more recent and lacking of innocence, drenched in reality. Drawing is at the root of the work. Paring down shapes and stories, the work lies in a space between spaces: a balance between whimsy and uncertainty. Reduced marks and color gradation map questions of weight, transition, perception and support. The same queries exist in that "empty" space.
LGTripp Gallery
47–49 N. 2nd Street
Philadelphia
,
PA
19106