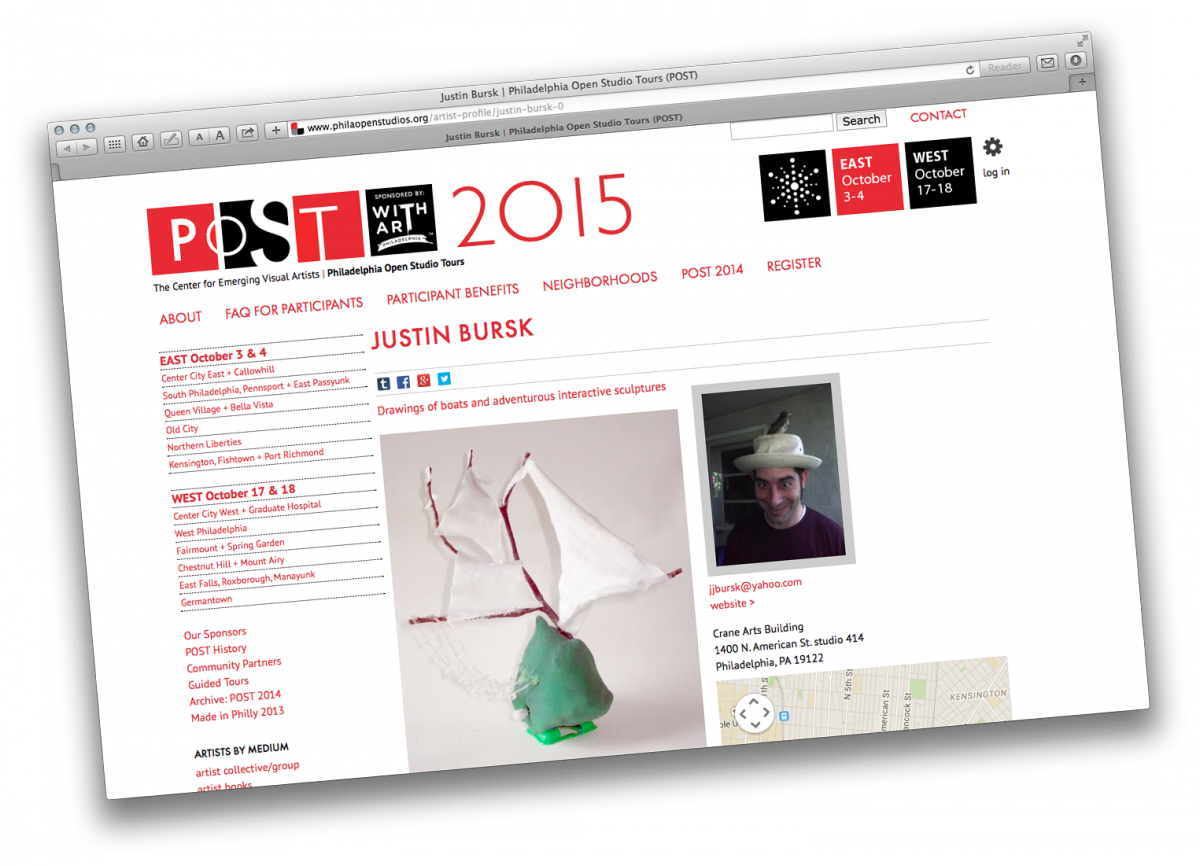 Join us for one of the upcoming informational workshops. Learn how to use your POST profile to full advantage. Spread the word with print and social media. Check out heavybubble for your website.
Are you an artist or community partner interested in participating in the Philadelphia Open Studio Tours (POST) and want to know more? Have you already registered to participate and are curious to know how to take advantage of the many tools and opportunities that your participation gives you? Please join CFEVA staff member Marnie Lersch, past participants, and us for an informational session including a Q&A and tips and tricks to improve attendance to your studio.
Informational sessions will be held at the following locations:
Wednesday, May 6, 1-2 pm at the University City Arts League (4226 Spruce Street) Join CFEVA staff and heavybubble: websites for artists, and POST artist Paula Cahill. Register here.

Saturday, May 23 1-2 pm at the Philadelphia Sculpture Gym (1834 Frankford Ave) Join CFEVA staff, heavybubble: websites for artists, artist Darla Jackson.
Register here
Thursday, June 25, 5:30 - 6:30 at the Center for Emerging Visual Artists (The Barclay 237 S. 18th St, Suite 3A) Join CFEVA staff, heavybubble: websites for artists, artist Gina Michaels.
Register HERE

Thursday, July 9 2-3 pm at HBHQ (1241 Carpenter St) Join CFEVA staff, heavybubble: websites for artists and past participants. Register here.
The Philadelphia Open Studio Tours (POST) is a community based, citywide event celebrating Philadelphia's diverse array of visual art makers. POST is CFEVA's highest attended event and the largest annual tour of artist studios in the region, serving as a vital resource for Philadelphia artists to build and maintain audiences, exhibit and sell their work, participate in curatorial reviews, and promote themselves as part of a large-scale public campaign. POST has grown to become a much anticipated city-wide event each year in October, as it stimulates tourism and educates the public about art. 2014 marked a hallmark year for POST: it was our 15th anniversary and the highest attendance to date at over 50,000 visiotrs to our open artists open studio's and community parnter lcoations as well as to our featured exhibitions, events,workshops, demonstrations and lectures.